"Meet me at midnight," Taylor Swift teased, and the world promptly dropped everything to hold their breath and count down the seconds until the clock struck 12. 
On Friday, October 21, 2022, Taylor Swift released her 10th studio album, Midnights, at midnight EST. Midnights contains 13 tracks (Swift's lucky number), which she described as "a collection of music written in the middle of the night, a journey through terrors and sweet dreams," and "the stories of 13 sleepless nights." She collaborated with many industry standouts like Jack Antonoff – who produced every song on the standard album – and Lana Del Rey. She also wrote some of her songs with other stars like Zoë Kravitz and her longtime actor boyfriend Joe Alywn (who writes under the pseudonym William Bowery). 
Leading up to the release, Swift slowly revealed track titles through a series called "Midnights Mayhem With Me" in which she used a vintage bingo cage and 13 numbered ping pong balls. On random nights, she'd release a video at midnight EST of her rolling the cage until a ball came out. She would then pick up a bright red phone and reveal the title of whichever track had that number. Taylor is known to leave little easter eggs – or discreet hints about her future plans and projects in several different forms including music video visuals, emojis, her outfits, capitalized letters that spell out messages in album booklets, and even certain words in her posts or speeches – everywhere, so after each new video, Swifties (members of her dedicated fanbase), had a blast trying to decipher the videos on social media.
Three hours after releasing Midnights, Taylor dropped a new release with seven additional songs, appropriately called Midnights (3am Edition). 
Taylor also released two music videos for the album during the release week: one for "Anti-Hero" and the other for "Bejeweled." The "Anti-Hero" video was released on the same day as the album at 8 AM EST, while "Bejeweled" was posted on the Tuesday after (October 25th) at midnight EST. Both videos immediately shot to #1 on Youtube trending.
Since the initial release of Midnights, Swift has broken countless records – some of them her own – and the earth-shattering album has quickly cemented itself in history. She truly is a "Mastermind." (To see a more complete list of records broken by Taylor and Midnights, scroll to the bottom of this article.)
During its release week, Midnights went #1 in 14 countries, including the US. 
Now, the album has broken over 20 Guinness World Records!
Midnights spent twelve consecutive weeks at #1 on the Billboard 200, Anti-Hero spent eight non-consecutive weeks at #1 on the Billboard Hot 100, and as of April 1st, the song has charted for 22 weeks. Taylor has now spent 62 weeks at #1 on the Billboard Artist 100. She's currently the only artist to spend over a year there, and has the most weeks at #1 in history. 
Swift was the first artist to occupy the top 10 spots of the Billboard Hot 100, setting the record for most top 10 hits from an album and most female top 10s. This achievement also marked the first time no male artists charted. (She actually occupied the top 13 spots with the entire standard album!) "Anti-Hero" tied her for the most #1 song debuts with Ariana Grande and earned Taylor her 9th #1 track as well. With Midnights, she set the record for the most #1 album debuts and tied Barbara Streisand for most albums at the #1 spot.
Taylor has also broken several streaming records on multiple platforms, both nationally and internationally. On Spotify, she set the global record for biggest streaming day for an album, song, and artist; the biggest debut for an album (broken within five days) and female collaboration (with Lana Del Rey for "Snow On The Beach"); the biggest streaming week for a female collaboration and artist; the biggest streaming year for a female artist; and several more. 
Not only did Swift break streaming and charting records, but she broke a lot of sales records, too. Midnights has quickly become the highest selling album of the year within just a week of its release, giving it the largest sales week of the year and decade as well. The album made history with the biggest vinyl sales of the year, which was broken in a single day; biggest vinyl sales of the decade; biggest digital sales week for a song; and biggest US post-bundling era debut. (Before the post-bundling era, artists were able to sell merchandise with a free download of their album to boost their sales numbers. In turn, this boosted their chances of achieving or maintaining a #1 album. Now, a merchandise + album bundle has to cost at least $3.49 more than that piece of merchandise on its own. ($3.49 is the minimum cost of an album for the charts to count it.) These bundles can only be sold directly from an artist's website, and the album and merchandise must be available for purchase separately.)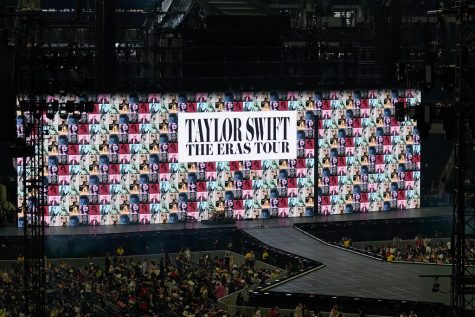 Ten days after the release of Midnights, Taylor announced that she'd be going on tour in 2023 with special guests Paramore, beabadoobee, Phoebe Bridgers, girl in red, MUNA, HAIM, GAYLE, Gracie Abrams, and OWENN . Called "The Eras Tour," it is already expected to be the highest grossing North American tour. Coincidentally, she already holds that record for the Reputation Stadium Tour.  The Eras Tour is also expected to be the first tour to ever gross over 1 billion dollars. Buying tickets was a complicated matter: the probability of getting tickets was two percent, which is lower than Harvard's acceptance rate. In addition, the number of fans on the site on the presale day could've filled 900 stadiums! She set the record for the biggest single day sales on Ticketmaster, and the demand for tickets was higher than the demand for tickets to all top five tours of 2022 and the Super Bowl combined.
Swift kicked the tour off on March 17, in Glendale, Arizona. In honor of the tour, Glendale was temporarily renamed to Swift City. Nationwide, Taylor is playing 52 shows. Each night, she flawlessly performs an impressive 3 hour and 44 song set, with stunning visuals, several different costume changes, and talented dancers. She takes her fans on a magical journey through her different eras, which are different time periods in her life, each lined up with one of her albums. Each era has a distinct aesthetic that reflects the concept of the album, and can be identified in her outfits, makeup, staging, hair styles, and social media posts. During the concert, with each era, Taylor performs the biggest hits and some fan favorites. Everyone in attendance is provided an interactive light up bracelet, which also creates visuals around the stadium, like big pink hearts when she performs "Lover." To put into perspective just how many people were in attendance on opening night, there were more people at the Eras show than the Super Bowl, and it was the most attended female concert in history. 
In Taylor's own words, "that's a real legacy to leave."
A more complete list of records broken by Taylor with the release of Midnights:
Note: there are countless other records that have been broken, especially international ones. The majority of this list is a collection of national records.
Billboard
First artist to occupy the top 10 of the Billboard Hot 100.

Occupied the top 13 spots

The first time no men were on the chart

Most top 10 hits from an album

Most weeks at #1 on the Artist 100 chart (62 weeks)

First artist to spend over a year at #1 on the Billboard Artist 100 chart

Most #1 albu

ms debuted on the Billboard 200 (11 albums)

Most #1 albums (11, tied with Barbara Streisand)

Fastest artist to get 9 consecutive #1 albums (10 years)

Most #1 song debuts (tie with Ariana Grande)

9th #1 track ("Anti-Hero")

Most female top 10s in history (40)

Most simultaneous top 10's on the Billboard Global Chart

First artist to have 5 albums debut with over 1 million units on the Billboard 200

ONLY artist to simultaneously debut a song and album at #1 on 4 separate occasions
Spotify
Most streamed artist in a single day (228 million)

Most streamed artist in history (35 billion)

Most streamed album of 2022

Biggest streaming day for an album (186 million)

Biggest album debut day (186 million)

Broke her own record for

Red (Taylor's Version)

Now holds the top 3 spots
Biggest album debut week (700 million)
Biggest streaming year for a female artist (2022, 10 billion)

Biggest streaming day for a song ("Anti-Hero," 17.4 million)

Biggest global and US chart debut

First artist to cross 1 billion streams in a week

First female artist to surpass 11 billion streams in a year

Fastest female non-single to reach 100 million streams ("Lavender Haze," 15 days)

Broke her own record for "All Too Well (Ten Minute Version)"

Biggest female collaboration debut day ("Snow On The Beach (ft. Lana Del Rey)," 15 million)

Third biggest global and US chart debut

Biggest streaming week for a female collab ("Snow On The Beach," 57.4 million)

The 5 biggest global single debuts

Fastest album to reach 500 million streams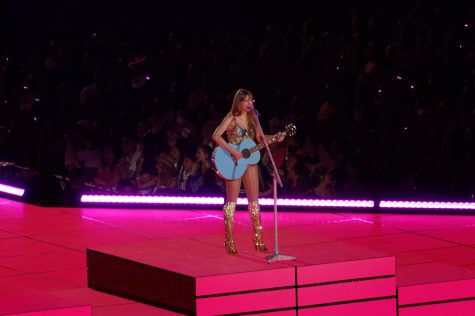 Amazon 
Biggest streaming day for an album (7.97 million)

Biggest first day streams of an album (7.97 million)

Biggest first week for an album

Biggest first day Alexa requests for an album
Apple 
First album to occupy the top 13 on the global chart (and for 5 days in a row)

Biggest album released globally

Most first day streams of an album
Most first day streams for any album in Dolby Atmos
Most #1 hits for any artist (56)
Sales
Became the highest selling album of 2022 in its first week (1.6 million)

Largest sales week for an album 

Broke her own record for

Reputation

2nd biggest female album sales week

Biggest worldwide debut

Biggest sales week of the decade

ONLY artist with 5 albums selling over 1 million copies

Biggest vinyl sales on its first day (575 thousand units)

Biggest digital sales week ("Anti-Hero," 327 thousand)

Broke her own record for "Look What You Made Me Do" 

Biggest US post bundling era debut (1.2 million units)
Misc 
Broke 20 Guinness world records 

Certified gold in the UK in just 2 days

Certified gold in Australia in release week

Certified gold in Canada

before

release

Certified gold in Brazil in just 2 days

Biggest streaming week for any female album

#1 album in 14 countries 

Biggest debut week in 9 countries

Most streamed female artist worldwide (130 billion)