"These are the names of the five major companies that controlled Hawaiʻi's sugar industry in the early 1900s. Does anyone recognize any of the names?" I said to the class.
As a sophomore, my activism for more Filipino representation had contributed to the establishment of the new GSD: Asian Studies class in response to the original required Asian History course only including two countries and containing minimal opportunities to critically discuss history. Now, as a senior, I was teaching a lesson in the very class I used my student voice to advocate for.
In GSD: Asian Studies, students culminate their semester with an educational project in which they will teach a lesson plan to an audience of their choosing.
As a contributor to the creation of the course and the founder of a curriculum-creating initiative called the Filipino Curriculum Project outside of school, my role was to provide an example of a lesson by teaching it to the three sections of Dr. Roy's and Mr. Gushiken's GSD Asian Studies class, and then with Ms. Proctor's and Mr. Demura-Devore's class sections the following month.
The lesson I was teaching was about Asian American history, specifically about the Sakadas, Filipino plantation laborers who immigrated to Hawaiʻi during the early 1900s to work in the plantation fields. Titled "Sakadas and the Plantation Times," it concentrates on Filipinos but also includes the other ethnic groups – mainly Asian – that worked in the sugar and pineapple plantations under exploitative conditions. The lesson ends with students creating strike posters of their own, simulating resilience and revolution against the harsh and unjust treatment of the plantation industry.
Students nodded their heads in response to my question of them recognizing any of the names. On the screen I had listed Castle & Cooke and Alexander & Baldwin, to name a few.
I took a step further. "What is the name of the building that we're sitting in right now?" I asked. 
"Castle," all the students echoed back at me. Castle Hall, although a far walk from the Academy, is where many of my favorite classes took place, including my junior year US History class – GSD American Studies: Race and the American Experience – which helped me fall in love with history all over again through projects and discussions on systemic racism, inequity, diverse perspectives and current issues. It is also where GSD: Asian Studies, the class I helped create, is being taught. But the building's name commemorates and honors a person who was involved in the exploitation of Hawaiʻi's diverse groups and the erasure of Native Hawaiian culture. People like Samuel Northrup Castle and Amos Starr Cooke, first missionaries, then the founders of Castle & Cooke, held the plantation industry and the fates of many minority immigrant workers in their fists.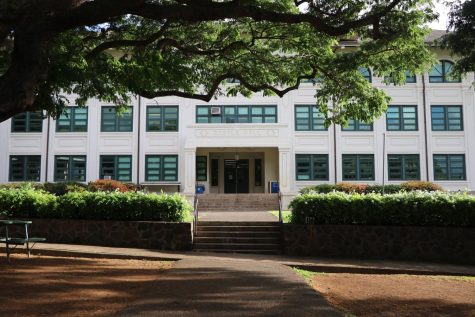 Hawaiʻi's racial "harmony" wasn't initially born from progressive acceptance like many believe, but because those in power wanted to prevent unions from forming across the Hawaiʻi plantation workforce. Workers were recruited from all parts of Asia including China, Japan, Korea, and then finally the Philippines, and worked in the same plantations as Hawaiians as well as Portuguese and other Europeans. But despite this diversity that Hawaiʻi is known for, according to the Library of Congress, "Plantation life was rigidly stratified by national origin, with Japanese, Chinese, and Filipino laborers paid at different rates for the same work, while all positions of authority were reserved for European Americans. Plantation owners often pitted one nationality against the other." This shows not only the hierarchy of the industry, but the ethnic division used to keep groups separate and oppressed.
The official Castle & Cooke website states, "In 1837, Samuel Northrup Castle and Amos Starr Cooke landed in Hawaiʻi to begin their new lives. First missionaries, then teachers, then merchants, then pineapple and sugar plantation owners, first in Hawaiʻi and then worldwide." This shows their immense power over Hawaiʻi's islands during this time period, one of the largest contributors to their wealth being the sugar industries that they owned and controlled, which were operated on the basis of racism and inequality.
 According to Punahou School, Castle Hall, built in 1913, was named in honor of Samuel Northrup Castle. It was funded by Mary Tenney Castle, known as 'Mother Castle,' – the wife of Castle.
"The building we are sitting in is built off of sugar money," I said to the class. "It is built off of the exploitation of not only Filipinos, but countless Japanese, Chinese, Korean, Hawaiian, Portuguese workers that came through Hawaiʻi's plantations." 
But where did a lot of that money from Mary Tenney Castle specifically come from? A majority no doubt was from the sugar and pineapple plantations that her husband owned, as this funded a large portion of their wealth. And how was sugar and pineapple money generated? By paying the workers very little. If you ask any of the sophomores in that class about my Sakadas lesson, they will tell you that Filipino Sakadas were paid 62 cents a day in the plantations. That is less than one dollar; that is less than 75 cents. That was the lowest amount paid to an ethnic group.  
62 cents in 1906 is equivalent to about 20 dollars today. Since workers were working up to 12 hours a day, this meant that they were being paid the equivalent of around $1.71 per hour in 2022 prices, a wage that would not only be against the labor laws of today, but highly immoral.
The individuals we name buildings after are those we choose to commemorate. And it's about time that we learn about the truths – the hard truths – behind many of our buildings, the history that is threaded within them, and the people that were forced to struggle. How many Sakadas broke their backs and endured festering wounds on their cane-hoisting shoulders so that we could be afforded Castle Hall? How many Japanese, Chinese, Korean, Filipino, Hawaiian and Portuguese laborers rioted against each other as the result of plantation owners pitting their workers against one another, so these walls could be built?
This is why classes such as GSD: Asian Studies are beneficial. They create the space to learn about the stories of minority figures like Asian immigrants – stories that are largely untold, but may be very relevant to our education. It's important to note that many of these workers didn't stay placid for long: against the hopes of their oppressors, they did succeed in forming unions and protesting alongside each other, resulting in better conditions and pay. 
Buildings physically guide our learning, as curious students walk through the halls every day on their way to class. As students and educators, we have a responsibility to recognize and grapple with the history behind them. 
This story was originally published in Ka Punahou's 2023 print issue "Stone & Flow," which you can view in its print form with additional photos and content by visiting kapunahou.org/stoneandflow.