Social studies, specifically history, is a discipline that tells stories and reveals truths about our world. Social studies allows us to explore multiple perspectives, make connections, critique the biases and events of the past, learn how the past connects to the present, and uplift and celebrate stories and people. Social studies, as an academic subject, holds power.
But the classes we require, specifically in the area of history, send a message about which histories we prioritize.
Hawaiʻi is filled with a rich but often painful history that must be grappled with. The image of the marketable and romanticized paradise masks the crucial history of American imperialism, genocide and cultural erasure, brutalities not far removed from our school history. Sanford B. Dole, an alumnus and the son of Punahou's first principal, was one of the architects of the illegal annexation of the Kingdom of Hawaiʻi. He became the leader of the Republic of Hawaiʻi soon after the overthrow of the monarchy. A student could walk the steps of Pauahi Hall hundreds of times without knowing that those very steps are linked to the legacy of Dole the annexationist, who delivered the main address during the building's dedication in 1896. In an ironic twist of history, the building was named by Charles Reed Bishop in honor of his beloved wife, Princess Bernice Pauahi Bishop. Charles Bishop was a trusted advisor to generations of Hawaiian monarchs and ensured that the wishes of his wife to preserve Hawaiian culture were fulfilled through his important roles in the establishment of Kamehameha Schools and Bishop Museum. The contrast between Bishop and Dole illustrates how Punahou School's history is directly intertwined with the history of Hawaiʻi, including the overthrow of the Hawaiian Kingdom and a colonial era that is still very much ongoing.
However, students may be unaware of our school's connection to American imperialism in Hawaii. Punahou in its Academy has required American History, Asian History and European History in its social studies graduation requirements, but not Hawaiian History. After being taught in 7th grade, Hawaiian history never resurfaces as a required course. Across the state, Hawaiian history is required in the Hawaiʻi Department of Education in high school. Punahou has been an outlier for decades.
The Punahou Social Studies Department is undergoing groundbreaking departmental changes and intends to require Hawaiian History as a social studies graduation requirement. The requirement for a Hawaiian history course is still currently under discussion, but according to Punahou president Mike Latham, it is very likely to pass. Once passed, it would be a milestone accomplishment, a culmination of faculty and student support. As a student who sees and values the importance of social studies and history, this is both refreshing and exciting. According to Dr. Pamela Sakamoto, the head of the Punahou Academy Social Studies Department, the first class to take Hawaiian History as a required course would be the class of 2028.
Learning about Hawaiʻi is learning about the history of our place. Through place-based learning, students can become more aware of their environment as well as the present-day impacts of its history. They can gain an appreciation of native culture and become more motivated to be responsible and thoughtful stewards of the land. Native Hawaiian students will also receive representation in the curriculum, and it is important that they learn the history of their roots in their homeland. Many of us, myself included, are not Native Hawaiian ethnically, meaning that we are settlers. As settlers, we have the responsibility to become aware of the history of our place and learn the perspectives of native people. This is the least we can do.
The support for a Hawaiian History requirement is and has been overwhelming. Last year for a school project, I interviewed various members of the Punahou Social Studies department, many of them Punahou alumni, about the then-disparity in place-based learning. "A student could go their entire career at Punahou without learning about Hawaiian history, and that is a problem," says Kumu Kealohi Reppun '99. Dr. Ka'eo Vasconcellos '95 said, "We can't just take the adornments of a culture, without actually implementing it." Dr. Kealoha-Scullion '80 said, "This will facilitate a sense of belonging in students." Punahou is taking big steps towards ensuring this sense of belonging once Hawaiian History is officially approved as a graduation requirement.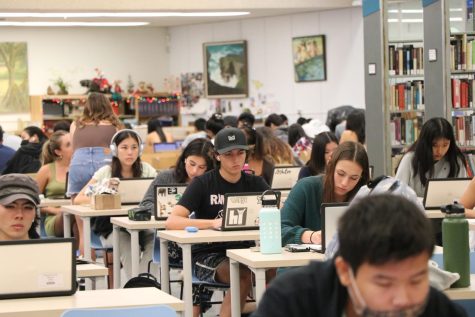 I additionally sent a survey to high school students at Punahou inviting them to share their student perspectives. 28 out of 30 of these students believed that Hawaiian History should be a requirement at Punahou and many of them felt passionately about learning about the history of our home. A student who identifies as non-native stated, "Growing up in Hawaiʻi, I feel that we have a responsibility to know more about our history and our roots than the rest of the world… At the Academy age, students are ready to learn about the darker side of Hawaiian history, and are able to examine the events with a critical lens." Another asked, "How can we expect students on the continent to avoid ignorance about Hawaiian culture and people if we, as residents in Hawaiʻi, are not taught the full, in-depth history of Hawaiʻi?" A student who identifies as part Native Hawaiian, stated, "Whether you are ethnically Hawaiian or not, anyone living in Hawaiʻi should be educated and aware of the land they are living on."
Last year I reflected on how the future of Punahou in terms of valuing place-based learning was positive. I had the opportunity to speak with Dr. Pamela Sakamoto, the head of the Social Studies Department, about Hawaiian History, who heard our concerns and is in support of prioritizing Hawaiian History. There was departmental support towards reexamining the graduation requirements, but this was stalled mostly due to the pandemic within the past years. This year, Dr. Sakamoto is one of my teachers in my Bias in America class, a curriculum filled with nuanced discussions where we critically examine history from complex racial, socioeconomic, and privileged lenses. We dive especially deep into American imperialism and how the racist and superiority complex mindsets of the past led to the colonization and oppression of the Philippines, Hawaiʻi and other nations, and how we can draw "historical parallels" from these events and today.
We additionally take the care to critique the material we learn and come across, including archives from Punahou's official history. Which parts of history get left out? Which perspectives and stories are not included, or many times, approached in a glossed-over way? How is history approached, retold – evolving? During one class, we discussed the overthrow and illegal annexation of the Kingdom of Hawaii. It is in this class that Dr. Sakamoto shared with us that the Social Studies Department will support the official listing of Hawaiian History as a graduation requirement.
This is a monumental step in Punahou's history. I was especially enthusiastic upon hearing this, remembering nearly a year ago embarking on a mission to provide a student voice in support for the change.
This change marks a significant turning point in Punahou's education. As students, whether ethnically Native Hawaiian or not, we have power in our voices and we have a right to advocate for what we feel is important to learn and be prioritized in our education. We must continue to show our support for place-based learning.
To audiences reading this, we also have a job to self-reflect. How much do you remember learning about the history of your place? What do you remember? And you do think it was enough? What more can you do to fill these gaps?
This story was originally published in Ka Punahou's 2023 print issue "Stone & Flow," which you can view in its print form with additional photos and content by visiting kapunahou.org/stoneandflow.