Almost everyone on Oahu has been to a carnival or fair provided by E.K. Fernandez. The carnival rides, games, and food company was founded in 1903 and remains family owned today. According to the E.K. Fernandez website, their first carnival was the Maui County Fair in 1915. Many people know them for their thrilling rides and games, but their early events involved animals, such as elephants! In fact, their elephant Daisy was the first to be imported to Hawaii. Oahu's 50th State Fair, which resumed this past summer after three years of hiatus, featured many rides provided by E.K. Fernandez. 
The Punahou Carnival has occurred every February since 1932. A popular event to many students, families, and residents, the carnival gains massive attention every year. The carnival originally raised money for the Oahuan, Punahou's high school yearbook, during the Great Depression. Funds raised at the event now support Punahou's financial aid program for students. E.K. Fernandez has supplied many school carnival rides for decades. Up until this year, their rides have been provided annually to large schools such as Punahou, Iolani, and Mililani High. Unfortunately, E.K. Fernandez has stated that their "capacity to produce" these carnivals has declined due to the lasting economic impacts of the pandemic. Many of their staff have left their jobs at E.K. Fernandez, and their rides aren't able to function without proper inspections and set up crew according to KHON2 . 
The Punahou Carnival generates extensive revenue every year which is used to fund the financial aid program. During the carnival in 2021, Punahou faced a similar situation in which E.K. Fernandez's large rides and games were not available. The 2021 carnival raised $337,000 for financial aid. However, before the onset of the COVID-19 pandemic, the carnival generated a far greater amount: about $1,000,000 each year.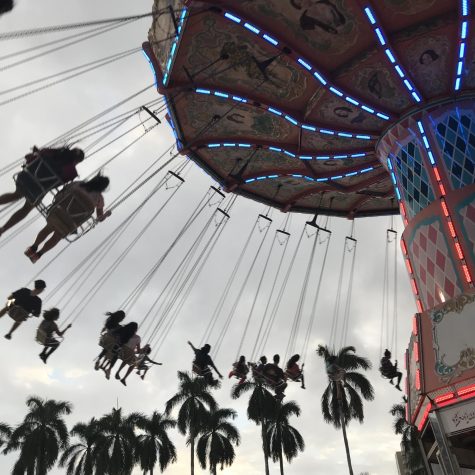 E.K. Fernandez's game booths and large rides are the highlights of Punahou Carnival for many who attend. For the foreseeable future, many of these resources will no longer be available with the exception of small kiddie rides. What does this mean for future Carnivals? This might create more opportunities for the volunteers who sign up to manage booths every year at Carnival. Most likely, Punahou will have to create more food booths, games, and activities to fill up the vacancy. More shifts will need to be filled and more booths will need to be managed.
Another potential consequence of the lack of E.K. Fernandez's contribution is a decline in future attendance. Will fewer people be showing up to the once popular Punahou Carnival without many of its games and rides? Students such as Lauren Oliver '26 state that they will be mostly attending "for the food." Other classmates have said they will still attend the tradition because it supports a good cause. 
What will happen to school fairs/carnivals? Will the Punahou Carnival remain exclusively kiddie rides? These are some of the pressing questions that remained unanswered. The impact of one family-owned business has changed all school fairs on the island. It's possible that the Punahou Carnival will never be the same as a result.