As a junior in high school, I often think about the life ahead of me. What do I want to do in the future? What would make me happy? That leads to more philosophical questions: what is the meaning of life? How do we achieve happiness?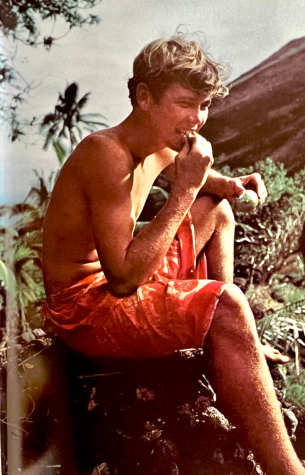 Dove helped to answer many of my doubts and uncertainties. The book narrates the true story of a sixteen-year-old boy, Robin Lee Graham, who made a solo voyage around the world in his 24-foot sloop. As soon as I read this description on the front cover, I wondered, why? What made him embark on such a risky journey alone? 
Graham had always been fascinated by boats, but his father played a central role in augmenting his passion for sailing. As a boy, Mr. Graham had dreamed of sailing around the world on his self-built eight-foot boat—an ambition cut short with the bombing of Pearl Harbor. When Graham was thirteen, his father took his family on a year-long trip to the South Seas to fulfill his boyhood dream. The visit to exotic islands and blue coral seas impressed Graham considerably. He remarks, "It is hard to believe that my parents, having allowed me to sail the South Seas…expected me to be a typical American schoolkid, to go on to college and graduate to a walnut office desk, a home on Acacia Avenue and a membership in the local golf club."
As a high school student, Graham was more interested in sailing than studying for tests and exams. One time, he sailed to Lanai with two friends without informing his parents. The short expedition was nearly fatal; the Hawaiian newspapers reported the incident, which aroused much criticism. Graham, however, was undeterred. Recognizing that his son was "more interested in living than longevity," Mr. Graham bought Dove, a safe boat for ocean sailing. He was barely surprised when Graham, at sixteen, announced he intended to sail around the world. The two spent a summer fitting out Dove and packing equipment for the journey.
Graham points out, "Shakespeare…had Hamlet say, 'There's a divinity that shapes our ends, rough-hew them how we will.'" As I read the book, Graham's voyage seemed more than rejecting school, finding glory, or seeking personal adventure. His five-year-long expedition was full of life-changing experiences which persuaded him that sailing Dove was part of a divine plan linked to his fate and destiny. 
Patti Ratterree must be the main reason for this belief. Graham admitted that he would never have accomplished the journey without her. He met Ratterree in Suva, the capital of Fiji, through a friend. Ratterree, like Graham, was also an adventurous soul: finding life in Los Angeles "too shallow and irrelevant," she left college to hitchhike through Mexico, to Panama and Tahiti, earning money in between by taking up small jobs. Graham and Ratterree immediately felt a strong connection, and their love and confidence bloomed in the blue lagoons of the Yasawa Islands. Graham arranged his sailing route so that Patti would always be waiting at the next destination, and eventually, they married in South Africa.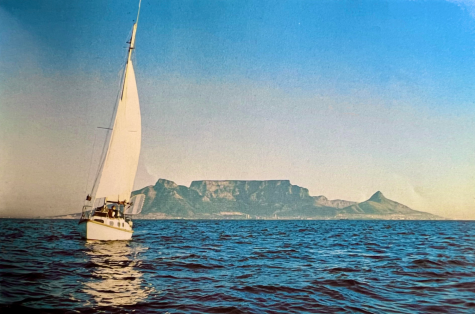 The course of Dove is remarkable. On July 27, 1965, the boat set sail from San Pedro, California, and reached Ala Wai Harbor in Honolulu after twenty-two days. Dove then takes Graham through the South Pacific to the Samoan Islands, the Fijis, Guadalcanal, New Guinea, and Australia. Graham then crosses the Indian Ocean, around the Cape of Good Hope, up the Atlantic Ocean to the Caribbean, through the Panama Canal (where he bought a larger boat), to the Galápagos, then north to California and his home port. Graham's plans in each place varied. On the islands, he interacted with natives, attending local ceremonies and listening to their stories about their ancestors and how they had come to settle on the island. In Suriname, South America, he visited local markets with Ratterree to bargain for food and marveled at the mixture of people of different races and ethnicities. Sometimes the two hiked mountains and explored the landside, but mostly they spent lazy afternoons diving in the sea.
Sailing alone entailed great danger. Graham encountered life-threatening moments unique to traveling at sea, such as nearly being run over by a large vessel, spotting a terrifying waterspout in the distant horizon, enduring doldrums, and navigating in squalls. At times Graham stayed awake for days lest the boat sail off course amidst a storm and was overwhelmed with depression and loneliness after weeks without human contact. Still, Graham went on, for he envisioned a life different from most others.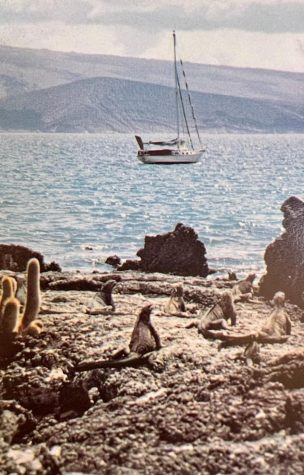 As a young boy, Graham could never see himself growing up as an average adult, living in a humdrum town and conforming to social norms. He admitted, "My tyrants were peanut butter sandwiches and people in gloomy offices who insisted I wear shoes, people determined to arrange my life in tidy patterns, prodding me this way and that until I could be safely sent out into society, wearing white collars and gray suits, credit cards in my billfold, golf clubs in the closet under the stairs and a half-paid-for car in the garage." Later in the journey, swimming with Ratterree in the brilliant ocean of the Galápagos, Graham expresses his incredulity towards the society that most of us are familiar with: "Oh, God, is it true that there are cities somewhere and that people live in concrete egg boxes!" 
The young sailor reflects, "Being alone had made me realize that man is pretty insignificant in the universe, like a speck of dust." Sailing around the world with him through his book, it was easy to understand that many of my problems and worries were trivial in the grand scheme of nature. My biggest takeaway from this book was that happiness should not be a goal but something that brightens our lives every day. Graham led an unconventional life but was happy throughout; he shows the readers that following your heart is more important than leading a life that does not have meaning to you. I recommend this book to anyone interested in sailing and adventures, as Dove recounts perilous and beautiful episodes on land and at sea. I also recommend it to anyone who contemplates what it means to lead a fulfilling life. Hopefully Graham's extraordinary voyage is an inspiration that guides you to your happiness.