It happens every year like clockwork. First, law enforcement officials warn parents to examine their children's Halloween candy for drugs. Then media outlets at every level pick up the story. From Fox News to Hawaii News Now, countless platforms have shared the claim that drug-laced candy will be given to children, needlessly terrifying people all across the United States. "Needlessly," that is, because there is no evidence to support the idea that people are handing out contaminated candy to children at Halloween or any other time of the year.
This year's panic centers around "rainbow fentanyl," a colorful form of the synthetic opioid fentanyl, which can be up to 100 times stronger than other common opioid drugs and thus poses a serious risk of fatal overdose. An August report by the federal Drug Enforcement Administration (DEA) described rainbow fentanyl as an attempt by drug cartels "to drive addiction amongst kids and young adults." While DEA Administrator Anne Milgram noted in a Fox News interview that the DEA "have not seen any connection to Halloween," media outlets have made the leap, prompted in some cases by law enforcement agencies. The Hawaii High Intensity Drug Trafficking Area (HI-HIDTA), a federal/state/local law enforcement collaboration, released an October 2022 bulletin explicitly suggesting a link between fentanyl and Halloween candy. This prompted coverage of the claim by Hawaii News Now and the editorial board of the Honolulu Star-Advertiser. When asked by Ka Punahou why the bulletin was published and whether it was prompted by any evidence, HI-HIDTA Drug Intelligence Officer Rico Witt declined to comment.
NPR questioned the factual basis for reports like these, finding that experts in drug policy not only reject the idea that children will be given drug-laced candy at Halloween but also refute the claim that drug traffickers are targeting young children with rainbow fentanyl. Dr. Joel Best, Professor of Sociology and Criminal Justice at the University of Delaware, expressed similar skepticism. Best researches "Halloween sadism," the reported phenomenon of deliberately contaminated Halloween candy. Writing in The Conversation earlier this month, he shared the main result of his research: he has not found "any evidence that any child has ever been killed or seriously injured by a contaminated treat picked up in the course of trick-or-treating." Best, who says that he is contacted every year by reporters covering drugs-in-Halloween-candy claims, believes that these stories "are best understood as contemporary legends." He asks why drug dealers would benefit from giving away drugs (which are significantly more expensive than candy) to children (who are unlikely to somehow become paying customers) – but, as Best notes, "the villains in contemporary legends aren't expected to behave rationally." These stories abound: ankle-slashing thieves hiding under cars, LSD-soaked temporary tattoos being given out to children, organized kidney theft at parties. While none have been backed up with evidence, the myths persist nonetheless.
Why do we imagine that malicious strangers will target our children with drug-laced candy? Dr. Best says that across American history, "fears emerge as reflections of current social changes." Perhaps, as the decades-long "war on drugs" continues to be challenged by advocacy for harm reduction, fears of drugs in candy reflect our collective awareness that there is a problem with the way we deal with drugs. But the truth might be more sinister. In a statement shared with Ka Punahou, Hawaii Health & Harm Reduction Center (HHHRC) asserted that many law enforcement agencies "retain communications professionals like public information officers to drive narratives that are far removed from the pursuit of policies that prioritize public health," describing this year's Halloween fentanyl scare as "a frightful exercise in how law enforcement uses the media to stoke public fears and perpetuate stigma around an important health issue." According to HHHRC, this "misinformation campaign" fails to address the underlying issues that drive alcohol and drug use and other mental health problems. 
It's certainly true that drugs can cause harm. Fentanyl is particularly dangerous due to its extreme potency and is contributing heavily to a spike in opioid overdoses in Hawaii, often because it has been added to other drugs to make them cheaper and more powerful. But when we focus on myths and fear, we distract from basic and effective public health measures that can be taken to reduce overdoses, address drug addiction, and keep our communities healthy and safe.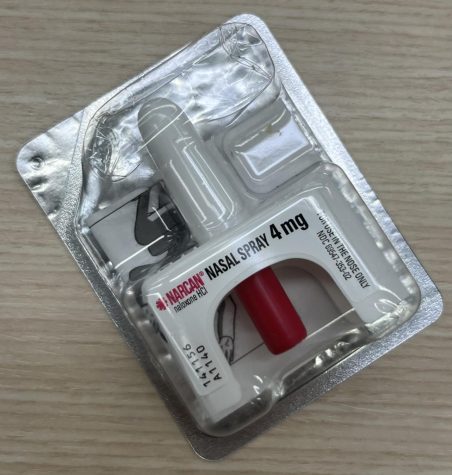 Over 100,000 people die due to drug overdose every year in the United States. Those overdoses aren't happening because of people giving drug-laced candy to trick-or-treating children, but they are happening, on Halloween and every other day. They can be prevented through education about the effects and risks of drug use, and by increasing access to critical resources that can help people avoid overdose and reverse it in others. According to HHHRC, these include training to prevent overdose and access to naloxone nasal spray (a medicine used to prevent fatal overdose), both of which the nonprofit provides for free to Hawaii residents. It's easy to learn to use and carry naloxone, and doing so can potentially save the life of someone who would otherwise die from an opioid overdose.
Ka Punahou is not aware of any evidence to support claims of candy being laced with fentanyl or any other drug on Halloween. Drug experts and researchers have similarly found no proof for the widely reported story. Rather than spending this Halloween afraid of drugs and strangers, take it as an opportunity to learn about what you can do to promote public health and prevent overdose – and enjoy a little trick-or-treating along the way.