The Punahou Intermediate football team handily won their October 6th matchup with the Pac-5 Wolfpack, 28-0. Coming into the game, Punahou had won their past two matchups in the league. 
Hayden Noland '26 set the tone for the Punahou's defense on their way to a shutout by snagging an interception on the third play of the game. The interception gave the Buffanblu offense good field position, leading to a Hunter Fujikawa '28 touchdown pass to wide receiver Mason Wilcox '27. Saul Scheuer '28 kicked the extra point, giving Punahou a 7-0 lead. Scheuer was a perfect 4/4 on point after-touchdowns.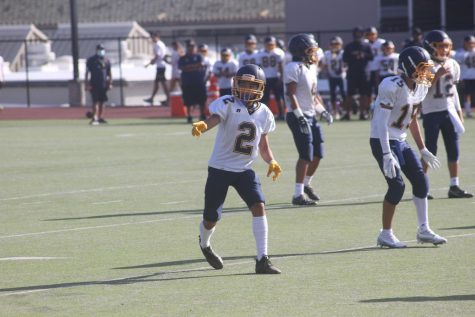 Later in the first quarter, Fujikawa found Tanoaalofa Scanlan '27 for another Punahou touchdown. He also threw a touchdown pass to receiver Hunter Sarsuelo '27 in the second quarter.
Quarterback Connor Yunker '26 played in relief to cap off the scoring, throwing a touchdown. He also broke off a big run, as he scampered past defenders on his way into Pac-5 territory. This run led to his passing touchdown, which came on an Aaron Johnson '27 reception right before halftime.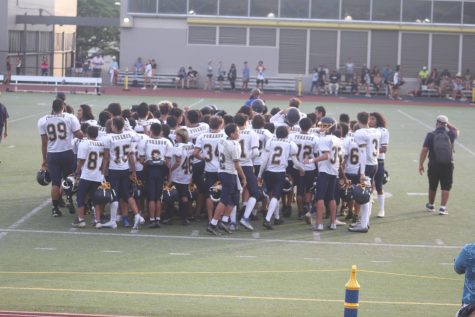 The Punahou defense stood firm, recording many sacks and keeping Pac-5 scoreless. 
Coach Mark Hibbs said, "The boys played well today, we got to play a lot of players in the game.  The team has been working hard all summer coming into the season." He went on to say, "The win today should provide us some momentum that hopefully translates into a good week of practice as we prepare for next week's game v.s. a tough Damien team."
Punahou improves to 3-1, with their last game of the season on October 15 against Damien at Alexander Field. 
Pac-5 falls to 1-3 and will play against Kamehameha next.
| | | | | |
| --- | --- | --- | --- | --- |
| Box Score | Q1 | Q2 | Q3 | Q4 |
| Punahou | 14 | 14 | 7 | 7 |
| Saint Louis | 7 | 7 | 0 | 7 |