After 16 years at Punahou School in roles ranging from Spanish teacher to Summer School Director to her current position as Academy Principal, Dr. Emily McCarren is leaving at the end of this school year for a position as head of Keystone Academy, a K-12 independent school in Beijing. In this interview, McCarren reflects on her time at Punahou and outlines her future hopes for both herself and the school.
The following interview has been edited.
Let's start by looking back. You came to Punahou 16 years ago, if my math is right. What do you remember about your first impressions of the school? Why did you decide Punahou was the right place for you?
My first impressions of the school came before I even arrived on campus. When I got hired, I was sent a big thick envelope full of readings about educational practice and philosophy, and what the Academy believed in in terms of good teaching and learning. I had been teaching for eight years or so at that point, and I had never really worked in a community that had conversations like that, so I was super inspired.
When I arrived at Punahou, I was a full time Spanish teacher. I had been working at a boarding school, and my impression was like, oh my goodness, what do I do with all my time? At my previous job I was working 24/7, had students that I was responsible for all the time, we had to coach two seasons of athletics… A boarding school is just a very different environment. So when I got to Punahou in 2006, at 2:30pm classes would be done and I would work on lesson plans for an hour or so, and then I was like, what do I do? I actually ended up managing a restaurant at night.
Really?
Yeah. In those first few years, you know, we were trying to figure out how to survive here financially. I was just waiting tables at night. And, you know, if you wait tables for a little while and you're responsible and you show up, eventually the owner is like, hey, do you want to be the night manager? So I did that for a while. Those were good times.
How did you end up in your position as Academy Principal?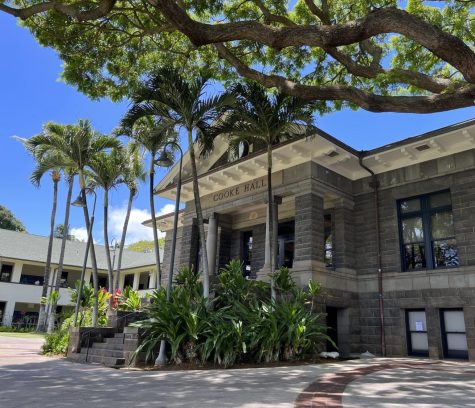 Just good luck, really, and people sort of taking a chance on me. I applied for jobs at Punahou that I didn't get. I think during my first year I applied to be an Academy Dean because I had wanted to be a dean at the school I worked at before. This was before I even really knew what it meant to be a dean at Punahou, you know, I'd been here for like, a few months. And I just thought, oh, that sounds interesting. I didn't really understand the scope of it. I just said yes to a lot of things, and put my name out there. So I was a department chair for a while, and then I was the Wo International Center Director for several years before I became Academy Principal, and I was Summer School Director for a while too. I mean, there are just so many fun jobs to do! I just kept trying new things. This is the job I've had the longest, actually.
On the topic of the Wo Center, and Punahou's educational centers in general, one shift during your time as Academy Principal has been an expansion of the role played by the centers in the life of an Academy student, and in the Junior School as well. What role have you played in that?
I'm really proud of that. When I was the director of the Wo Center, I was constantly thinking okay, we have these incredible resources that only a handful of Punahou kids get access to, because coursework – you know, as it's traditionally defined – takes up so much time. So we really started asking questions like how can the missions and the aspirations of these centers become part of kids' everyday lives? And there are lots of ways to realize that across the school. With the little kids, it was about creating after school language programs that were a little bit more intensive than what we offered during the day. In the Academy, we started offering Capstone service trips – we knew that every kid had to take Capstone, so could we just have some of our travel programs give Capstone credit.
But even then, it was only accessible to a small number of kids. So one of the reasons that I was excited about the possibility of becoming principal was that I saw so much potential for the centers to really play an important part in curricular leadership because those are the places where a hopeful educational future is framed in lots of ways. The centers have really had such a huge impact, I mean, they've been responsible for everything from the Global Sustainability by Design program to the new Ke Kilohana structure for seniors' Capstone credits which will roll out in earnest next year.
I also have a lot to say about how I haven't yet done enough in that space. When you're leaving something you always see the empty half of the glass, but we've hired great folks into those positions, people who are great curricular thinkers.

You played a major role in the introduction of competency-based learning (CBL), and then in the school's response to the community's reaction. I'm curious what you think went right with the introduction of CBL, and whether there's anything you would go back and change if you could?
From a curricular standpoint, that was sort of like the dark days of my principalship. The values around the CBL methodology of curricular design and assessment really align with what's good for kids and their learning, so I have no hesitation about that. But holy smokes, did I learn a lot about change management and communication – and how things can go sideways! There are a million things that I would do differently if I had that to do over again. I've spent a lot of time thinking about that. When you propose radical change, you have this fantasy that things will sort of just click into place and go… But especially in a place like Punahou, you know, we're planting seeds of trees in the shade of which we will not sit. And so I am proud of that, because even as I'm on my way out, I see teachers who were previously skeptical and are now leaning in – maybe not to the words "competency-based learning," but to the framework and the values around, like, how do we know that we're doing what we say we do? And so I think those questions will keep coming up. I think the people who have really advanced this work at Punahou are going to keep doing that. And what we've seen is that there's extraordinary student demand for a lot of the courses that are taught with a CBL framework, and so they'll just keep happening.
The philosophy of the school right now is that we're not going to try to unify our pedagogical strategies. We're going to really embrace the idea that there are lots of ways that learning can happen. So that's an extraordinary challenge, because how do we ensure that we're doing what we say we do when everybody's doing things differently? However, we are committed to establishing K-12 learning outcomes, so that no matter how students learn they're all gaining the skills and experience we want them to – they're all shooting towards the same outcomes, even if they're on lots of diverse pathways. Even though we might not be at the scale I would have anticipated, I don't think we're headed in the wrong direction.
Moving from changes we want to make to changes we probably don't, what has it been like to be in your role during the pandemic?
"
Punahou can do things quickly. We can create systems that are radically different from the ones we're used to.
I think one of my strengths is that I'm super optimistic and positive. It's been extraordinary to be a school leader in this time, and especially a school leader at Punahou. Especially compared to something like competency-based learning, this has been a moment where Punahou has changed and evolved extraordinarily quickly in a short period of time. So I think we've learned that Punahou can do things quickly. We can create systems that are radically different from the ones we're used to. So I think that's very cool, because there's now sort of a muscle memory that, like, we can do hard things.
But what was it like to be in my role… Was it horrible? It was super hard. It was, you know, 365 days a year for what seemed like 14 years – I guess we're in the third year now? It was just sort of nonstop. I hadn't taken a day off in, like, a year and a half. And that was everybody! We've just been constantly chasing the newest context in which we found ourselves. And we're still doing that to some extent, although maybe we're fatigued enough that we don't care as much about perfection. Or maybe we're just moving into different rhythms. But it's been a hard time for anyone who's leading and working in schools.
Where are you going next? What role are you going to be playing there?
Currently the plan is that on July 1, I'll become the Executive Head of School of Keystone Academy, which is a big K-12 school in Beijing. I was appointed 13 or maybe 14 months ago now, so I've been in a long transition. I meet with folks from that school every week. And I've been learning a lot about it – it's a bilingual school, a Chinese private school. So most of the folks there are Chinese citizens, but in non-COVID times it intends to have about a quarter of the kids be non-Chinese passport holders. It was founded by a group of Chinese who were educated in the US and then went back to China to further their careers, and they felt like they were missing part of their Chinese identity. They're interested in creating a school that does what US schools do for independent critical thinking, and what international schools do by creating the notion of "Third Culture Kids", and what Chinese schools do for developing a sense of cultural pride and reverence for learning. Whenever I'm figuring out what I should do next, I'm thinking what's the thing I can go do where I can learn the most? And holy smokes, there's so much to learn in this context!
How are you feeling about the move? Are you excited for it? Maybe a little freaked out?
I'm 100% excited for the work of leading a school. There's a ton I don't know. But it's an amazing team of people, it's an extraordinary vision, it's a well resourced place with all the right values and mission and hopes. I'm a little freaked out about the logistics of our move, but I am confident things will work out!
In what ways do you think your time at Punahou has prepared you for this next step, going from being a principal to being a head of school, and applying your knowledge in a totally new place?
I mean, in all the ways! One hundred percent of the ways. I was a strong candidate for this position because of all the things I've done at Punahou. Keystone actually has a slightly smaller K-12 student population than the Academy at Punahou, so the scale is kind of like what I'm doing now. My work in the Wo Center gave me experience that I wouldn't have had otherwise, both with K-8 students and teachers and with the landscape of education in Asia. I spent a lot of time in Beijing as Wo Center director. So, yeah, all the ways.
Oh, and Punahou is the only secondary school to have educated heads of state from both the US and China – Sun Yat-sen, and then Obama – so I can stand up and say that maybe Keystone will be the second.
I have to be honest about this next question. This is one of the ones where I was like, should I ask that? So I'm just going to ask, and if you don't want to answer it, please don't. What made it the right time for you to move on to a new role in a new place?
I mean, that's a great question. Of course you should ask that. I don't know if it is the right time or not. I have hesitation about that all the time. I feel really good about the things that we've launched in the Academy. I think there's so much talent here. I'm really proud of a lot of things that I've supported, and of the improvements we made to our student wellness programs – it's not as visible as some of the curricular stuff, but it was hard, important work. I think Punahou is always going to be a place that's figuring out what's next educationally, and I've made contributions that I'm proud of, and I'm sort of ready for the next adventure. There are all sorts of reasons I could have been happy to stay at Punahou for a really long time. It's not that it was time for me to leave. It was sort of like, here's this other opportunity that seems worth taking.
I want to ask about Mr. Gustavo Carrera, who's coming to Punahou as Academy Principal next year. Have you met him? What excites you about him and his experiences, and what he's going to bring to the role?
I have met him! He's fabulous. He's a really passionate, caring educator with a lot of really interesting experiences. I think his cross-cultural lens is going to be a great fit at Punahou. He doesn't yet have lots of experience in Hawaii. I didn't either, when I arrived, and I think he's asking all sorts of questions about how to arrive here that signal that he's really going to do a great job. He cares a lot about supporting teachers, and really loves high school and high school kids. So I think people will find him really warm and accessible. He's going to be a great addition to the community.
Is there any advice that you've given him about Punahou, or about Hawaii in general, that you're willing to share?

He doesn't need advice from me. I mean, we've had a good time talking about how the Academy is put together administratively and some of the big decisions that will probably be coming his way in the next few years. And my advice to anybody who's coming to work at Punahou is to not assume that you know what the answers are, but to be listening carefully to what the questions are. And if you can figure out how to convene people around those questions, and have people agree on the questions, the community holds so much wisdom to point towards the answers. If you keep that in mind, you can't help but do well, because there are so many really smart, caring people here.
What are your hopes for the future of Punahou? What do you hope will change, or continue to change? And what do you hope will stay the same about the school?
"
Punahou prides itself on being a place with a tradition of innovation. I just hope we can lean more heavily on the innovation than the tradition.
I mean, I hope Punahou continues to ask questions about its curriculum and look at its efficacy, and modernizing teaching practices. Punahou prides itself on being a place with a tradition of innovation. I just hope we can lean more heavily on the innovation than the tradition. I hope that this school continues to be a place that inspires a lot of hopefulness and aspiration. I just think that's so important. It's part of what brings great educators here, and it's part of what keeps them around.
And I hope Punahou can be a place that keeps pushing itself to get braver about doing hard, important things. The people at Punahou have done a lot of hard, important things, and I hope – I trust – that they'll keep doing that. Because you can't be at a place like Punahou and just sit back and maintain the status quo. It's irresponsible given the resources and the human capacity – it's unethical, I think.
What's one thing you want Academy students to remember about you and your time as principal?
I don't really care if Academy students remember me, or my time as principal, but I hope that Academy students now and in the future remember Punahou as a place where they were able to challenge their own limits and try things differently. Where they were seen and known as individual human beings. Where they felt safe. Emotionally and intellectually safe, and also challenged, which is a fine balance. And I hope that when people pass through the Academy, either as students or as educators, that they take from their time a sense of responsibility for making education better. I hope that sort of aspirational piece is part of what kids in the Academy take with them, no matter when they're here.
What have been some of your proudest achievements from your time at Punahou?
I'm proud of the development and growth of Punahou's educational centers and of the Support and Wellness Department. And there's a lot of really cool stuff that has happened while I've been principal, just because when amazing educators come up with awesome ideas, I just say yes, how do we make that work? There's nothing special about me except that I love figuring out how to create great opportunities for smart and caring people to make stuff happen that they believe in. I think that's what makes schools great. One example that I'm stoked about and that's just sort of coming into its own is the whole voyaging program – the fact that, you know, kids wanted to build a canoe and so we built a canoe. Next year we're going to have a full time teacher running a voyaging program that has classes at every grade level. I'm super proud of that. I'm super proud of the sort of reality that you are kind of on the vanguard of. I mean, reading your article about transdisciplinary classes, where you wrote that those are the places to go for high quality, rigorous experiences, I agree with that one hundred percent. I think more and more kids every year see that, so I'm super proud of that. I'm proud of supporting teachers who believe in that hard work, too. Because it's much harder to do that than run just like, you know, five traditional classes on your own. It's much harder, but I think, much more rewarding. So I'm proud of all those things, and I'm proud of all the people that I've been a part of the hiring process for. This school is full of amazing people.
Is there anything else you want to mention that we haven't talked about?
Do I have anything else? No. My predecessor, when he left, he recorded a video of himself and played it at the last faculty meeting. And at the end of it, he's like, by the time we get to this part of  the video, I will be home. And I've turned my phone off for 48 hours. So don't call me, and don't say goodbye. At the time, I thought that was crazy. Now I feel like it was actually really smart, and I totally get it. I hate saying goodbye to this place. I hate everything about that. But I don't think it's really goodbye. What Punahou has done for me will always be a big part of who I am as a person and educator.