From the Vault: December 6, 1974
"From the Vault" features articles from previous volumes of Ka Punahou to honor KP's historic 102-year past. Courtesy of the Punahou Digital Archives.
"Standing Room Only", on the first page of volume 59, number 11, shines light on the great demand of the annual Christmas Extravaganza at the H.I.C Concert Hall, and the robust camaraderie that surfaces the band's tragic loss. Putting music to dance, the Concert Orchestra offered the musical background in Tschaikovsky's Nutcracker Suite, where all dancers were of the Punahou Dance Theater. Whether it is in the Wind Ensemble or the Concert Choir, the Punahou spirit is undeniably seen and heard.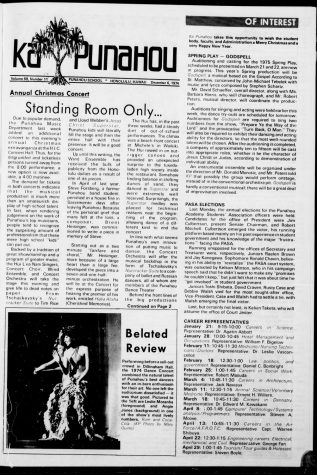 Leave a Comment