Since school restrictions have loosened in the last few weeks, music has expanded on campus. But even with this change, many precautions are in place, including the use of personal protection equipment, or PPE. Different music classes have restrictions enforcing the use of specialized masks or only playing outside. Even with some challenging changes in procedure from previous years, teachers and students are grateful for the time to play and be together again.
Mike Lippert, the K-12 Music Department Head, and director of Academy Choirs has been putting together safety plans for the new reality of high school music. When asked about the teachers' reactions to all the necessary changes for playing music together he responded, "We really feel positive about being together and singing together again…. Although it feels like we've lost a lot, we've been able to slowly gain back some of that time in person." Punahou has been planning this shift into the yellow and green tier since July. He says, "making noise together, making music together; these are the things we haven't been able to do." He and other teachers are working to "help music thrive on."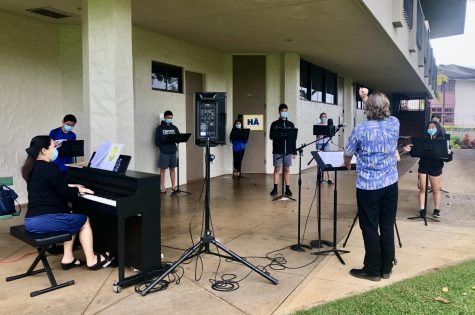 Classes have been adapting to the new program in different ways, with PPE added to make practicing together safer. Orchestra, guitar class, and Hawaiian music can practice inside in small cohorts of around 20–25 students. Band and choir are faced with the extra challenge of needing to blow into instruments or sing out-loud to participate. Both these music classes need to rehearse outside and be distanced appropriately. Both also have standardized masks that are used specifically for these classes. Some band instruments require a bell cover as a mask for the instrument. Students must also wear special masks with slits in them so they can play. These safety measures will allow students to make music together safely.
Students around campus have been responding to the change in different ways. Two students from the Academy Choirs, who wished to remain anonymous, shared how they have enjoyed the shift to singing again together. "Singing outside is definitely different than what I'm used to, but getting to sing at all with other people is amazing. I'd almost forgotten what it was like to hear all the harmonies coming together." The other student added: "I'm impressed with the lengths that Punahou has gone through in order to commit to music. Even though singing outside has its difficulties, it is a step up from not being able to sing at all. I'm thankful to the school for being so dedicated to the arts, and am looking forward to the next steps we can take." Other musicians in the Academy, when prompted to talk about their opinions on the change to in-person classes, responded almost unanimously with how pleased they were to make music together even with the restrictions that come with safety.
The Pandemic Response Team at Punahou has been very supportive of continuing music classes. They have helped create innovative strategies and look over anything COVID related. Mr. Lippert added that Dr. Loo and Mr. Kakos, the leaders of the Pandemic Response Team, have been very positive about the future of music on campus. Mr. Lippert concluded by saying: "This is where we are right now, and I'm confident that it's going to keep getting better."