New Opportunities in Space
With all the chaos in our daily lives right now, space might be the last thing on your mind. After all, why worry about a place you'll never set foot? Even though space may seem irrelevant, Space-X's contributions are starting to make it seem like that may no longer be. 
In an attempt to raise $200 million for St. Jude, the CEO of Shift4 Payments Jared Isaacman is holding a lottery to determine one of the passengers who will take a flight out of this world. He bought four seats (named Leadership, Hope, Prosperity, and Generosity) on the Space-X rocket, The Crew Dragon Spaceship. Isaacman will take the Leadership seat, Hope will be taken by a St. Jude employee, and Prosperity will be occupied by an entrepreneur who uses Jared's website, the Shif4Shop. However, the last seat (Generosity), will be determined by a lottery to raise funds for St. Jude. If you're over 18 years old, you are eligible to take part in this lottery. For as little as ten dollars you could become a crew member on the first civilian trip to space. Going to space has never felt this possible, even though the odds aren't exactly in your favor. 
St. Judes is a children's research hospital whose goal is to save children, especially those affected by cancer. Jared wants to raise at least $200 million for the hospital, and the 39 year-old billionaire will be donating 100 million of his own money to try to reach that total. 
This trip, only possible by Space-X, is also the first step in their plan to create commercial trips to space. It is also a step toward Elon Musk's goal of making humans a multi-planetary species. Space-X has been very productive over this pandemic. At their launch site in Texas, Space-X tested two of their Starships within a span of 2 months. They've gotten so big that NASA paid Space-X to send their astronauts to the International Space Station. 
But NASA hasn't just been sitting around. On Thursday, February 18th, NASA's rover Perseverance successfully landed on Mars! This was confirmed after the 7 minutes of terror (the 7 minutes it took Perseverance to enter Mars' atmosphere), when Perseverance landed and we all heard "Touchdown confirmed, Perseverance is safely on the surface of Mars." Even before the sentence ended, you could see the whole team celebrating their victory! These people contributed years of their life to developing Perseverance, and seeing all their hard work pay off must have been an amazing feeling. 
Perseverance represents a lot of firsts for space exploration, as it is the most complex piece of technology we have yet sent to Mars. Though it took Perseverance 7 months to get there, it left Earth at the incredible speed of around 24,600 miles per hour. For comparison, light speed is 186,282 miles per second, and the fastest jet aircraft in the world can only go about 2,100 miles per hour; a little less than 3 times the speed of sound.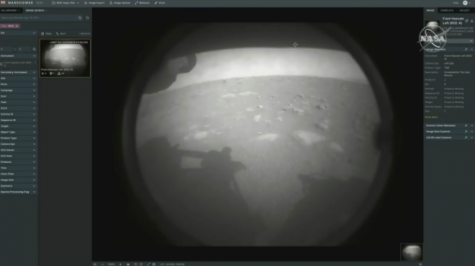 NASA was able to land Perseverance with unprecedented accuracy in Jezero Crater, which is what scientists believe used to be a lake. Now safely on Mars, Perseverance is going to use its technology to collect pictures and samples, as scientists are trying to prove the theory that life once existed on Mars. Perseverance not only contains 19 cameras, but it has an x-ray and radar function in addition to a nuclear-powered battery. 
But Perseverance also has many purposes other than just finding signs of previous life. For example, it is also bringing along the first drone on Mars (Ingenuity), which will act as a test for drones in future missions. Since drones are very maneuverable, NASA is hoping they could be used for surveillance and other tasks rovers are unable to do. Perseverance also contains technology that is meant to convert carbon dioxide into oxygen; something that will prove very useful when there are astronauts on Mars! 
However, Perseverance cannot carry the technology to both extract and analyze samples of rock for signs of previous life. Instead, Perseverance's function is to drill out 43 samples of rock, package them up, and leave them behind on Mars. Then, future missions will be able to take these samples back to Earth so scientists can analyze them. 
With Perseverance's new samples, we will finally be able to test the theory that life once existed on Mars. Furthermore, Space-X's first all-civilian flight and Perseverance's technology to turn carbon dioxide to oxygen are some of the first steps in making human travel to another planet possible. 
NASA and Space-X are making great progress in the world of space, but there's so much we still don't know. Is it daunting? Perhaps, but the unknown has always been fascinating. The thing is, no matter how much we discover, there is still an infinite amount to learn. NASA and Space-X know this, as they both use names that have value and meaning. The last three rovers NASA sent to Mars are named Opportunity, Curiosity, and Perseverance. The seats given to civilians in the most recent Space-X flight are called Leadership, Hope, Prosperity, and Generosity. Is it possible they used these names because they want space exploration to connect to people? As the names imply, the hopes of one day traveling to space and the need to understand it, are what keep us wanting to explore.
Leave a Comment